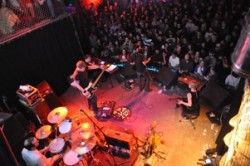 In it's five years, REGGIES' ROCK CLUB has become one of the top venues in Chicago for live concerts. Featuring artists of Rock, Punk, Metal, Indie, Hip-Hop, Jam, Electronic and more, there's something for everyone to see. A backdrop of murals created by local graffiti artists complement old chicago brick and steel. We've built  REGGIES' ROCK CLUB to be a unique and intimate space to see a show.
The gradually sloped floor creates the club's perfect sight lines — from the front of the stage to the very back row.
A chill-out balcony with comfy chairs overlooks the floor for "easy" listening.
The ROCK CLUB's hi-tech sound system ensures crisp clean sound throughout the house.
Our full menu of some of the best comfort food in town serves up a bit of home in every bite. Pick from our amazing Jumbo Sized Wings, gourmet Mac "n" Cheese, and creative burgers and sandwiches. Complement your food with a full bar selection of beers, wine, spirits, and liquors.
VIP packages are often available, giving the real fan unprecedented access. Check the SHOWS tab to see if you can get in on that action.
Host a PARTY in the balcony lounge or rent out the entire club for a PRIVATE EVENT.
Order On-Line to pick up your favorite food from Reggies.