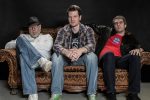 GARY CAIN BAND
"A high-wire blues/rock guitar slinger…killer original stuff that those in the market for a new guitar hero will take to heart."
– Midwest Records
With one foot planted firmly in the Blues, and the other foot planted in seemingly everything else, The Gary Cain Band bring a fresh and unique musical style defined by their debut release, "Twangadelic Bluesophunk". The band were Semi-Finalists in The Blues Foundation's 2018 International Blues Challenge, held in Memphis.
Gary Cain – Guitar / Vocals: Cain's guitar work on stage has been described by reviewers as "genre-bending", "jaw-dropping" and "the real deal", but the foundation of his virtuosic style was laid via marathon practice sessions as a youngster in his parents' basement. "Back then it's all I would do some days – sometimes 13, 14 hours a day. I'd have to be reminded to eat." says Cain. Long days poring over the musical styles of blues legends gave him a deep respect for the music, but he's not beholden to it. "I'm not a purist." he says, "What made those players so great was what they brought ot the music to make it their own. Albert King was the best Albert King there'll ever be. You gotta do your own thing with it."
After studying guitar at Humber College's world-renowned music program, he played in several bands, eventually landing a gig in the house band for The Lodge, one of Dubai's largest nightclubs. The four-sets-a-night, six-nights-a-week pace eventually led to a vocal injury that sidelined him. Now, back in action with a style he calls Twangadelic Bluesophunk, he's backed by a rhythm section featuring two incredibly well-rounded, experienced, and talented musicians. "It's great to be able to play with guys that can draw from so many styles. It gives us a lot of freedom to stretch out of the typical blues box and into a lot of cool different places."
In 2016 Gary placed 4th in the world in the blues category of Grammy Winner Lee Ritneour's Six String Theory guitar competition, judged by such greats as Joe Bonamassa, Ry Cooder, and Joe Satriani. He is also an Official Fractal Artist.
Tom Nagy – Bass: Tom Nagy has performed all across Canada, appearing with Genesis tribute group G2R, Mahavishnu Orchestra tribute group Vital Transformation, Boston tribute group Hitch A Ride, and with his own jazz quintet. He is a graduate of Humber College's world-class music program, where he also served as Assistant Engineer in the Humber recording studio. Tom is the Technical Director of K-W's top live jazz venue, The Jazz Room, and composes soundtracks for television and film projects.
Tom plays Lakland basses, and is a Featured Artist for Schroeder Cabinets.
Don McDougall – Drums: Don McDougall is a graduate of the Humber College Music Program. He began studying drums at six years of age with noted percussionist Gary Tomlin – who became one of Don's musical mentors. At the age of 17 he began his professional career with local heroes Opus II, a nine-piece show band and over the years has worked in productions such as Jesus Christ Superstar at Kitchener's Centre in the Square; Drayton Entertainment's "Cinderella" and "The 25th Annual Putnam County Spelling Bee"; Royal City Musical Productions "Blood Brothers", "Willy Wonka", "Nunsense" and "Seussical". Don has performed or recorded with some of the giants of jazz, including Pat LaBarbera, Peter Appleyard, Jane Bunnett, and blues great Mel Brown. Don appears on and also co-produced CDs by jazz vocalist Cathy Menard. Don's musical travels have taken him all over the world, including Austria, Germany, Switzerland, and Romania,
Don is an Official Artist for Headhunter Drumsticks and Creations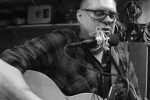 JOE RIAN THE A.M. DRINKERS
Joe Rian (pronounced Ryan) was adopted as an infant and raised in Rock Falls Illinois.
He flunked out of college, moved out of the Midwest and scraped by like most 20 year olds working multiple -minimum wage jobs. The main gig was sweating away at gold and silver refinery on the west side of Phoenix AZ. Other jobs included telemarketing, working concrete, putting up and then chasing hot air balloons, selling buying club memberships, moving appliances and a very short stint collecting outstanding debts for characters you might find on a once popular TV series.
This was 1989 Arizona. That's when he won a American Stratocaster on a radio contest signed by Jeff Beck and Stevie Ray Vaughan. Then, pure chance found him at the last ever SRV concert. Weirder yet is that he ended up working the door at Buddy Guy's Legends.
Summers would find him busking the streets of Chicago…where the real action was …on the city streets. Mid 90's blues revival indeed was certainly a thing Heavy Blues… Street Blues really. That was never the only thing.
Joe is certainly not a Bluesman, but a songwriter that likes to stir the sounds of Roots, Country and Folk styles into a nice pot of soup. As one listener called it…"Really Good Music….Saturday Night Music".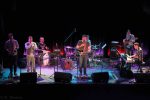 CHRIS SIEBOLD & PSYCLES
Psycles is an original project featuring many styles of music. Also, we can interpret your dreams!