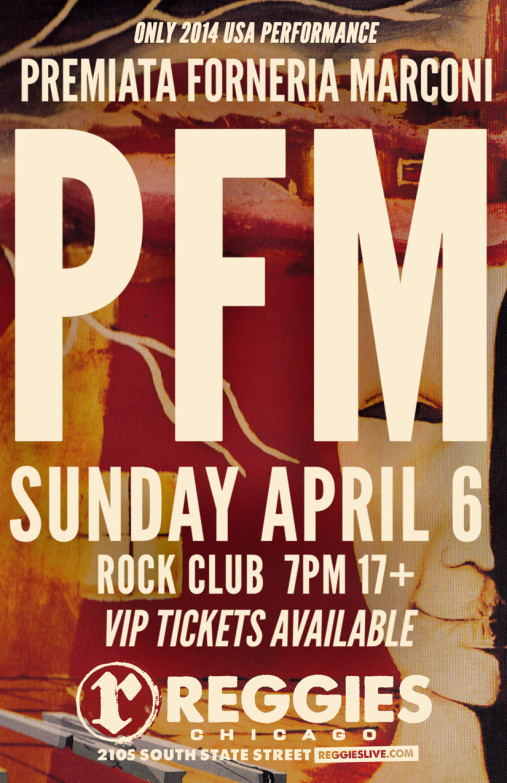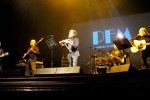 PFM (PREMIATA FORNERIA MARCONI)
Premiata Forneria Marconi (PFM) (translation: Award-winning Marconi Bakery) is an Italian progressive rockband. They were the first Italian group to have success abroad, entering both the British and American charts. Between 1973 and 1977 they released five albums with English lyrics. They also had several successful Europeanand American tours, playing at the popular Reading Festival in England and on a very popular national television programme in the U.S.A.
PFM introduced new sounds, such as the synthesizer, to the Italian musical world. They were also among the first to combine symphonic classical and traditional Italian musical influences in a rock music context. Such innovations and their longevity have made them among the most important bands in the international Progressive rock genre.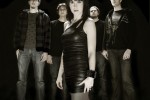 DISTRICT 97
District 97 is undoubtedly the most musically adventurous rock band in the world to feature an American Idol Top 10 Female Finalist. In July 2012, the band unleashed their second opus on Laser's Edge, Trouble With Machines. With her fantastic voice, and looks to match, Leslie Hunt has captured the imagination of the male-oriented prog rock scene. Complexity is one of the hallmarks of District 97′s compositions, but the album is laced with catchy vocal melodies. The track "The Perfect Young Man" features a guest vocal appearance by the iconic KING CRIMSON/ASIA singer/bassist, JOHN WETTON. Thus began a frutiful collaboration, as John and D97 embarked on a number of live dates in 2013 throughout the US and Europe featuring both District 97 and King Crimson material. RICH MOUSER, who has produced albums for SPOCK'S BEARD and NEAL MORSE, mixed the album.
DISTRICT 97 was formed in the fall of 2006 by drummer Jonathan Schang, keyboardist Rob Clearfield, bassist Patrick Mulcahy and guitarist Sam Krahn (replaced in 2008 by current guitarist Jim Tashjian). The foursome from Chicago honed a no-holds barred style of Liquid Tension Experiment-inspired Instrumental Rock before deciding the right vocalist was needed to complement their sound; enter 2007 American Idol Top 10 Female Finalist, Leslie Hunt. With a look, sound and stage presence comparable to a young Ann Wilson from Heart, Leslie's dynamic performances pushed the band into a new direction that forged a unique marriage between accessible, catchy vocal melodies and an adventurous instrumental prowess. She was followed shortly thereafter by one of Chicago's finest young guitarists, Jim Tashjian. With this new blend of charisma and stellar musicianship in place, their live shows at festivals such as RoSfest and Prog Dreams II, and numerous appearances across the USA, UK and Europe cemented the band as a force to be reckoned with onstage.
In May 2010, the band signed with Laser's Edge, the foremost home of new Progressive music. Laser's Edge oversaw worldwide physical and digital release of District 97′s debut effort, Hybrid Child, which was released to worldwide acclaim in September 2010, and went on to top many "Best of 2010″ lists. Appearing on the recording is cellist extraordinaire Katinka Kleijn of the world-renowned Chicago Symphony Orchestra, who also appears as a guest on Trouble With Machines.
Building on the strengths of Hybrid Child, Trouble With Machines pushes the envelope even further, and solidifies District 97′s position at the forefront of uncompromising Rock music. In 2013, the band was nominated by PROG MAGAZINE in the BREAKTHROUGH ARTIST category of the Progressive Music Awards. They are currently at work on their third album of new material, slated for a 2014 release.
$75 Above Stage VIP
includes access to balcony directly above stage and poster
$80 Red Chair VIP
includes reserved seating in plush red chair in balcony above bar, 3 hr call drink package and poster
$120 Front Row VIP
includes reserved chair directly in front of stage, and poster
$100 Dinner with the Band package VIP
includes dinner with PFM before show, access to soundcheck, early entry to show and poster