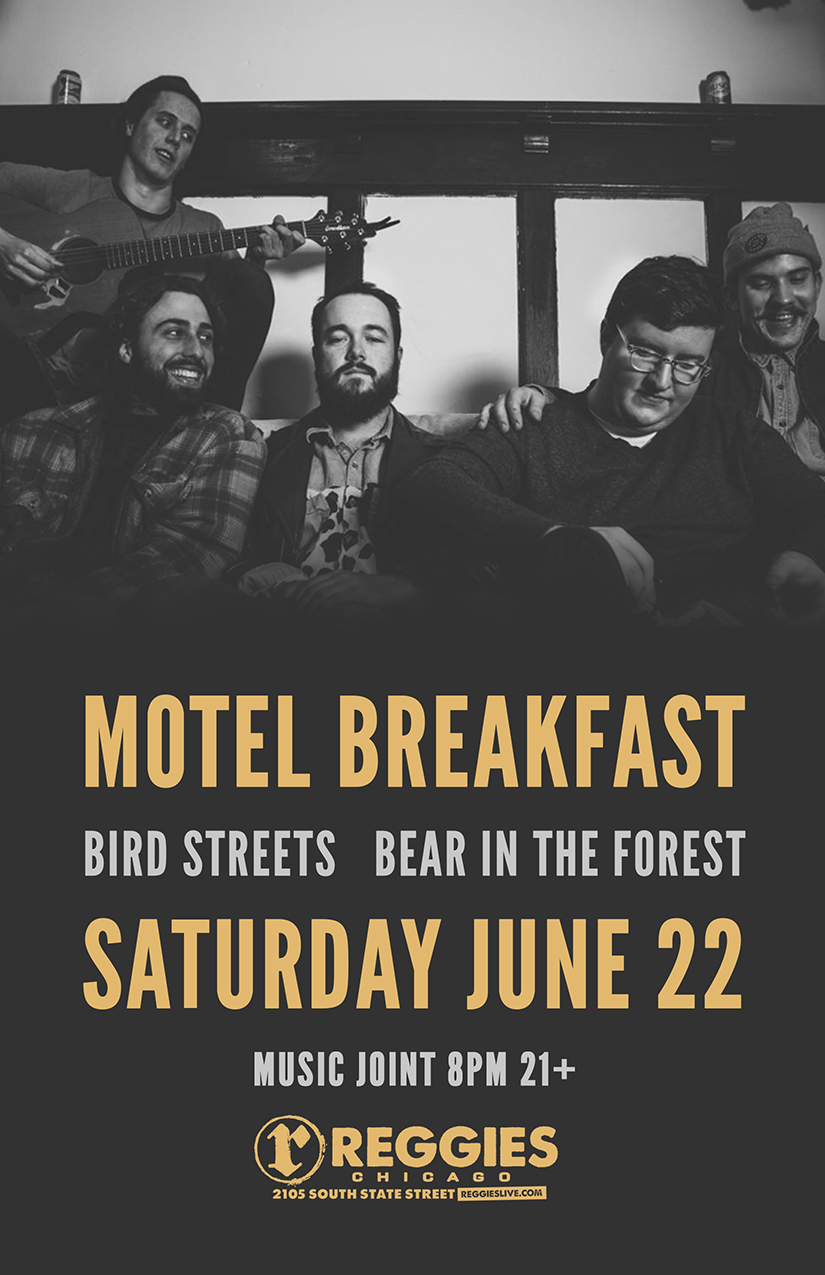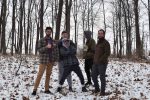 MOTEL BREAKFAST
Motel Breakfast came to form playing dive bars and basements in the winter of 2016. With members split between Chicago, Milwaukee, and Madison, they've built their name as members of all three Midwest scenes. After two years of live shows in the Midwest, the band hit the studio in the summer of 2019 to record to tape at Treehouse Records in Chicago. Produced by Andy Goitia (Sleepy Gaucho), the self-titled debut album captures the high energy and chemistry of the band's live show. The album is set to be released everywhere on February 7, 2020.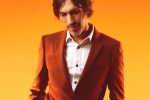 BIRD STREETS
"I used to write about finding ways out of the darkness," says John Brodeur, the New York songwriter and musician behind 2018 NPR Music Slingshot Artist Bird Streets. "Now I'm more interested in exploring and creating a map of that place. In some ways, adopting the Bird Streets name allowed me to write more openly about myself."
In need of a creative rebirth after many years in the New York music scene, Brodeur reached out to his longtime friend, producer and multi-instrumentalist Jason Falkner, to suggest they record together. The album yielded by this pairing is both fresh and familiar–a dynamic collection of introspective indie-rock and power-pop that draws liberally on the music of decades past without being bluntly nostalgic, with Brodeur's voice like an old friend you're meeting for the first time. The Falkner-produced debut, simply titled Bird Streets, is out now on Omnivore Recordings.
Over a career that's spanned nearly 20 years, John Brodeur has independently produced and released several solo albums, including 2013's Little Hopes; fronted rock trios The Suggestions and Maggie Mayday; and worked as a touring and studio musician for scores of acts, including The Morning After Girls, Freedy Johnston, and White Hills. He has shared stages with Fountains of Wayne, They Might Be Giants, TV On The Radio, The Whigs, Glenn Tilbrook, Cracker, 311, Lemonheads, Scud Mountain Boys, Greg Laswell, Asteroids Galaxy Tour, O.A.R., Sloan, Todd Park Mohr, and many more.
The name Bird Streets springs from a tony real-estate enclave in the Hollywood Hills, which Brodeur first discovered when the recording sessions were first getting underway — but also references his one-time hometown of Albany, N.Y., which provided the characters and inspiration for some of the album's 11 songs.
Recorded in Los Angeles between 2014 and 2016, Bird Streets is the product of equal measures tenacity and patience. After a series of setbacks derailed touring plans for his last solo album, Brodeur decamped to L.A. for a few months, waiting for a hole to open in Falkner's schedule. Once they were in the studio, the kindred creative spirits hit it off immediately, producing the song "Direction" in a single session. What started with a song turned into an EP and then a full-length album. Working during the short gaps between Falkner's touring and production commitments, with Brodeur shuffling between coasts for studio dates, the pair moved quickly, arranging and tracking entire songs in a day or two, sharing instrumental duties throughout. Brodeur brought few complete ideas into the sessions, instead composing in the studio with Falkner, lyrics often being finished as the record button was pressed.
Lyrically, these songs draw heavily on internal conflict — self-doubt, anxiety, depression — with an overarching feeling of wistful resignation rather than blind optimism. On "Spaceship," the album's introspective centerpiece, Brodeur reflects on his history with alcohol as "having the time of someone else's life," before admitting, "we've got a long way to go." The inertia of addiction hangs heavy over "Same Dream": "So many places that you've never been / But all you want is to be there again."
Something as seemingly inconsequential as writer's block is experienced as a mortal struggle on the spooky "Pretty Bones." Brodeur notes, "I got locked out of my friend's place in Hollywood the evening before we had to cut the vocal, and I didn't have a lyric yet so I wandered around for half the night, beating myself up for not having anything to say — which turned out to be decent lyric material."
Periodically difficult themes are delivered via unshakable melodies, a dichotomy that recalls the tightrope walked by artists like Elliott Smith and David Bazan/Pedro the Lion. In album opener "Carry Me," Brodeur celebrates "new beginnings and bitter ends" over a bright, bristling bed of electric guitars, then laments the end of a friendship that was once "tighter than Steely Dan" in the eminently catchy "Betting on the Sun." From there the album jumps between epic power-ballads ("Stop to Breathe") and British Invasion-flavored power-pop ("Thanks for Calling"), the George Harrison-via-Radiohead melancholy of "Heal" and the grungy jangle of "Until the Crown."
"Jason helped to bring the right batch of tunes out of me," says Brodeur. "Each time we finished one, he knew exactly what kind of song needed to come next."
Falkner fans will enjoy some genuine guitar-hero moments on Bird Streets, including the soaring solo work on "Carry Me" and "Direction," and the subtle melodic counterplay of "Bullets." Moments of guitar interplay, tracked simultaneously by the pair, give songs like "Betting on the Sun" and "Stop to Breathe" a live-band energy, even though many of the songs had never been performed prior to being recorded.
Once the duo wrapped up recording and mixing, the album was sent to mastering engineer Jon Astley, with the vinyl lacquer to be cut at the legendary Abbey Road Studios in London. Soon, the album caught the attention of Cheryl Pawelski at Omnivore, who made Bird Streets one of the label's select few new artists.
An 11th-hour revamp gave the album its striking cover image, Brodeur having scrapped the original packaging altogether upon seeing the new photo in a friend's Instagram feed. "It's really just a pile of bricks, but it reminded me of the absurd beauty of the Hollywood Hills, and all the struggle and sadness and poverty that goes toward maintaining that façade — those massive homes, teetering on the cliff's edge, while people are sleeping on the sidewalk a half-mile away."
Now, after years in the making — and decades on the outside looking in — Bird Streets is giving Brodeur a renewed creative energy, and a shot at reaching a larger audience.