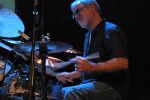 PAUL WERTICO & FRIENDS
Paul Wertico & Friends feat. Grammy winners Paul Wertico, Howard Levy, Fareed Haque and Chuck Webb
Paul Wertico: Hailed in the press as "One of the most versatile and musical drummers in music today," Paul Wertico was a member of the Pat Metheny Group from 1983 to 2001. During that time, he won seven Grammy Awards and he also played drums & percussion on David Bowie's hit recording, "This Is Not America." He has played with countless artists in all 50 states and in 70 countries, as well as playing on drums and percussion on hundreds of recordings. For two years, Wertico also hosted his own weekly radio show, Paul Wertico's Wild World of Jazz, and as Musical Director for the crowdsourced TV video series, Inventing The Future, he was nominated for a 2012-2013 Emmy Award.
In addition to teaching drums privately for over 45 years, Wertico is an Associate Professor of Jazz Studies at Roosevelt University's Chicago College of Performing Arts, and his new drum instructional book, Turn The Beat Around (A Drummer's Guide to Playing "Backbeats" on 1 & 3), was published by last year by Alfred Music. His DVD, Paul Wertico's Drum Philosophy, was named "One of the best drum videos of the last 25 years" by Modern Drummer magazine. He is also the inventor of his signature product, TUBZ, made by Pro-Mark, who also makes the "Paul Wertico Signature Drum Stick."
Wertico was a Chicago Tribune 2004 "Chicagoan of the Year," and in 2010, he was awarded two Lifetime Achievement Awards, one from the Cape Breton International Drum Festival, and the other from the Montréal Drum Fest. His band, Wertico Cain & Gray, also won "Best Live Performance Album" in the 13th Annual Independent Music Awards, as well as being nominated for "Best Live Performance Album" and "Best Long Form Video" in the 15th Annual Independent Music Awards.
In the international press, Paul's drumming has also been compared to that of an "Impressionist painter," and he has also been called "an inspired madman," "a restless innovator," "a true legend of jazz drums," "a master of drumming insanity," "a genius of the sticks," and a recent review stated, "Wertico simply oozes musicality."
Paul's official website is: www.paulwertico.com
Howard Levy: is an acknowledged master of the diatonic harmonica, a superb pianist, innovative composer, recording artist, bandleader, teacher, and producer. In 1970 at the age of 19, he discovered how to play the diatonic harmonica as a fully chromatic instrument. This opened new possibilities for an instrument that had been limited to playing Folk and Blues.
Equally at home in Jazz, Classical, Rock, Folk, Latin, and World Music, the two- time Grammy Award Winner is a favorite with audiences worldwide and a recording artist sought after by Kenny Loggins, Dolly Parton, Paquito D'Rivera, Styx, Donald Fagen, Paul Simon, and many others. Howard has appeared on hundreds of CD's and several movie soundtracks, most prominently on A Family Thing with Robert Duval and James Earl Jones.
His solo CD Alone and Together (Balkan Samba Records) and his trio CD Tonight and Tomorrow (Chicago Sessions) both received 4-star reviews in DownBeat. In 2011 Howard released a classical CD featuring his Concerto for Diatonic Harmonica and Orchestra– the first true concerto composed for diatonic harmonica. Rocket Science, a reunion CD with Bela Fleck and The Flecktones, won Howard his second Grammy Award for co- writing "Life in Eleven". In 2016 he released Tango and Jazz, featuring performances of Piazzolla tangos and original jazz compositions.
This year, Howard re-released his 1987 album Harmonica Jazz, the first recording he made under his own name. Howard and Chris Siebold's duo CD is also coming out in 2018.
Another new recording is Peaks of Light, adventurous original music with Slovenian jazz guitarist Samo Salamon. Information about these CD's and more can be found at www.levyland.com and www.facebook.com/HowardLevyFanPage/. And www.howardharmonica.com is Howard's online harmonica school, where he shares everything he knows about the instrument and music.
Howard has been touring as a solo artist and with The Flecktones, Trio Globo, Chris Siebold, Corky Siegel, and others.