No Tickets available at the Door.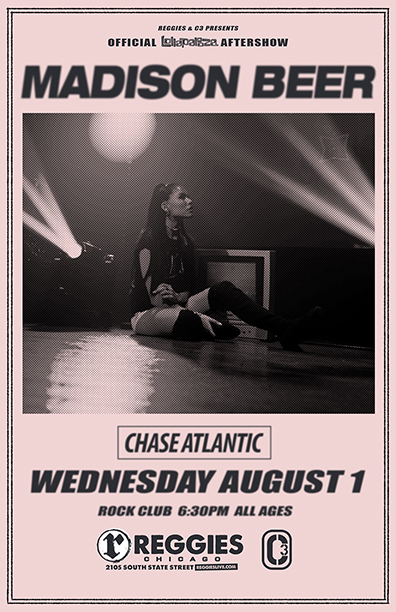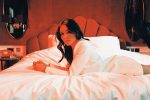 MADISON BEER
over the past few years, madison beer has grown into herself as the world watched. for the jericho, long island native, music is what propelled her into the spotlight after she started recording and posting cover songs to the web at the age of 12, striking a chord with the listening public and accruing a sturdy fan base that, today, has helped push her overall youtube views past 83 million. but as her social media following swelled and she racked up millions of clicks and streams across various platforms, she finally reached a point where she felt comfortable releasing a project that sufficiently conveys the person she's become.
"i wanted to just not hold back with anything and have it come through my heart and be all of me," says beer, now 19. for her debut ep as she pleases, independently released february 2, 2018, she fully comes into her own as a musician, co-writing on the set's seven tracks that blend the sheer pop sensibilities of her earlier work with hints of weathered blues, plucked acoustic balladry and hearty r&b. "i wanted it to be a true representation of me and the things i like—there are a lot of aspects that are really true to me and who i am."
as she pleases plays as an embodiment of the teenage experience, from the pangs of adolescent attraction ("teenager in love," inspired by 1950s artists like dion and the belmonts and santo & johnny) to being able to admit when a relationship has overstayed its welcome ("fool"). to beer, that meant mirroring the person she is on social media—she's amassed 10.7 million instagram subscribers and 2.6 million twitter followers—in her music and remaining as authentic as can be. that began with the ep title, where she harnesses an ethos of self-empowerment in an effort to embolden her audience. "i wanted it to be as she pleases, meaning you can do whatever you want when you put your mind to it," she explains. "you don't have to be scared of anything or do anything you don't want to do."
it also meant looking to her personal life for source material. "tyler durden," a bare ballad where her fluttering vocals warm to an arpeggiating, plucked guitar, is inspired by her favorite movie fight club, its lyrics playing off of lines from the film, while the bopping "home with you" rebuffs the advances of clueless guys when she's out trying to have a good time. so far, a few of the ep's songs have struck a chord: the electro-splotched "dead" has racked up more than 41 million spotify streams since release in august 2017 and got a boost with a remix from cedric gervais (lana del rey's "summertime sadness"), while "say it to my face," produced by grammy-nominated producer fred ball (little mix, rihanna) sped to 1.5 million spotify streams in its first week-and-a-half of release in nov. 2017.
releasing as she pleases is the next logical step in beer's progression from youtube singer to budding star. since its release, her debut offering has garnered more than 100 million collective streams, while her first-ever tour sold out in europe near instantly upon announcement, with the u.s. to follow. nightly, her rabid fans flocked to catch the beer in person, singing back every word from her as she pleases. the guardian wrote, "the american teenager pulls off somersaulting vocals and pin-drop performances with regal poise," adding, "in full you-go-girl flight, beer is impossible to resist."
growing up, music became an escape from the mundane of long island, where she realized she wanted to pursue her love of the art form when she was 10. by 12, she began posting to youtube, and the following year, her soulful cover of etta james' "at last" caught the attention of justin bieber, who tweeted out the clip on his twitter page and helped sign her to island records. but after she was given opportunities like recording the theme song for monster high and collaborating with cody simpson, she inevitably felt more comfortable on her own, and in the years that followed, she developed herself as an artist as authentically as possible.
the multifaceted artist also launched a fashion collaboration with global fashion brand missguided in spring 2018, which gives a subtle nod to the classic '90s style, inspired by beer's unapologetic attitude. she was also one of the faces of bvlgari's omnia pink sapphire fragrance launch, cementing her brand amongst the fashion elite.
now, with as she pleases, beer is ready to show the world who she truly is, and hopefully inspire a few listeners along the way. "i wanted to be a voice and wanted to have people look up to me like, 'if madison can do it, then i can do it,'" she says. "that's something i've always been really interested in communicating. i hope that's how it's translated, and that people listen to it the way that i'm trying to portray it."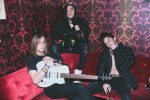 CHASE ATLANTIC
A TRIO OF TWO BROTHERS AND ONE LONGTIME FRIEND WHO PERSONALLY PRODUCE, PERFORM, AND PASSIONATELY CONJURE UP DARK ALTERNATIVE POP PUNCTUATED BY ROCK AND R&B, AUSTRALIA'S CHASE ATLANTIC BLUR THE LINES BETWEEN A NOCTURNAL AESTHETIC AND PRIMAL BLISS ON THEIR 2017 SELF-TITLED DEBUT FOR WARNER BROS. RECORDS.
THIS DELICATE BALANCE QUIETLY TRANSFORMED THE GROUP—MITCHEL CAVE, CLINTON CAVE, AND CHRISTIAN ANTHONY—INTO A VERITABLE SENSATION DOWN UNDER WHILE STILL IN THEIR TEENS. SINCE FORMING IN 2011, THE BOYS HAVE PACKED MULTIPLE HEADLINE TOURS ACROSS AUSTRALIA, AMASSED AN IMPRESSIVE DIGITAL FOOTPRINT OF FOLLOWERS, RELEASED TWO SUCCESSFUL INDEPENDENT EPS, DALLIANCE [2014] AND NOSTALGIA [2015], AND SPAWNED A VIRAL SINGLE WITH "FRIENDS," WHICH GARNERED AN INCREDIBLY LARGE COUNT OF SPOTIFY PLAYS.
HOWEVER, THEIR SHARED AMBITION ALWAYS EXCEEDED THE CONFINES OF THE BEDROOM STUDIO WHERE THEY INITIALLY RECORDED. "WHILE ALL OF OUR FRIENDS WERE DOING GAP YEARS AND FINDING THEMSELVES, WE WERE WORKING ON GETTING THE WORLD TO NOTICE US," ADMITS MITCHEL. "WE MADE THIS AGREEMENT WITHIN THE BAND THAT WE WEREN'T JUST GOING TO STAY IN AUSTRALIA. WE WANTED TO SIGN TO AN INTERNATIONAL LABEL, AND WE WOULDN'T STOP UNTIL THAT HAPPENED."
"WHAT WE WERE DOING WAS DIFFERENT FOR AUSTRALIA," ADDS CHRISTIAN. "IT FELT LIKE WE WERE THE ONLY ONES PUTTING OUT MUSIC THAT WE PRODUCED AND MADE ENTIRELY BY OURSELVES. THAT'S THE PROCESS. IT'S REAL."
THAT SPIRIT CAUGHT THE ATTENTION OF THE MADDEN BROTHERS DURING 2015. MULTIPLE MEETINGS IN AUSTRALIA FOLLOWED, AND THE THREE-PIECE SIGNED WITH THE INDUSTRY ICON'S MUSIC COMPANY, MDDN. IN 2016, CHASE ATLANTIC FLEW TO LOS ANGELES SCORING A DEAL WITH WARNER BROS. RECORDS.
"THE MADDENS LOCKED US AWAY IN A BURBANK STUDIO FOR THREE MONTHS AND THREW AWAY THE KEY. WE REALLY GOT TO PRESERVE THAT ORGANIC SOUND," SAYS CLINTON.
WITHOUT OUTSIDE INFLUENCES, THE THREE-PIECE PRODUCED, PLAYED, AND RECORDED EVERY NOTE, INCLUDING SAXOPHONE. ALONG THE WAY, THEY HONED AND FINE-TUNED A DEFINITIVE STYLE EQUALLY REVERENT OF TAME IMPALA AND SKRILLEX AS IT IS OF THE WEEKND AND TRAVI$ SCOTT.
"TO US, PRODUCTION IS THE MOST IMPORTANT THING," MITCHEL GOES ON. "IT'S THE MOST CRITICAL ELEMENT OF CREATIVITY. WE PUSH OURSELVES TO FURTHER WHAT WE CAN DO EVERY DAY, WHETHER IT'S PRODUCING OR PLAYING. WE REALLY FOUND OUR MUSICAL IDENTITY THIS PAST YEAR."
NOW, CHASE ATLANTIC ROARS TO LIFE ON THE FIRST SINGLE "CHURCH." GLITCHY SYNTHS BLIP IN THE BACKGROUND AS MITCHEL'S BREATHY VOICE HAUNTS AND HYPNOTIZES. BELLS RING WHILE THE HOOK—"I'M ABOUT TO TAKE YOU BACK TO CHURCH"—SIMPLY SEDUCES. "IT'S VERY FORWARD, SEXUAL, AND AGGRESSIVE," EXPLAINS MITCHEL. "THE LYRICS ARE SEXUALIZING RELIGION IN A WAY, AND THE SONG ENDS UP BEING THE COMPLETE AND TOTAL OPPOSITE OF WHAT CHURCH REALLY MEANS TO MOST PEOPLE."
ELSEWHERE ON THE RECORD, THE AIRY "INTO IT" TEMPERS A DOWNTEMPO GROOVE WITH AN UNSHAKABLE REFRAIN BEFORE A JAZZ-Y SAXOPHONE SOLO TAKES THE SPOTLIGHT. "IT REPRESENTS THE TRANSITION INTO A NEW, MORE INTENSE LIFESTYLE," SAYS CHRISTIAN. "YOU'RE ACKNOWLEDGING THAT THIS SOMETHING YOU'RE INTO AND CAN ROLL WITH. IT'S OUR STORY."
MEANWHILE, "RIGHT HERE" URGES FOR A CARPE DIEM MOMENT WITHIN A RELATIONSHIP. "IT BASICALLY SAYS, 'FUCK EVERYBODY ELSE. IT'S JUST YOU AND ME'," MITCHEL REVEALS. "ALL THAT MATTERS IS THE TWO OF US IN THIS MOMENT."
ULTIMATELY, CHASE ATLANTIC FORGE A LASTING CONNECTION THROUGH THAT HONESTY.
"THE ONE THING WE WANT PEOPLE TO TAKE AWAY FROM THE MUSIC IS THIS ELEMENT OF REALLY FEELING THEMSELVES," MITCHEL LEAVES OFF. "A SONG CAN MAKE YOU GO, 'FUCK YEAH,' AND YOU'RE THINKING ABOUT IT AND SINGING IT ALL DAY. YOU'RE NOT LEFT UNDERWHELMED. YOU'RE OVERWHELMED. WE WANT THAT."
"AND WORLD DOMINATION," AGREES CLINTON.