This show is in Austin Texas. Come on out and say Hi to the Reggie Crew!!!
Peckerheads
402 E. 6th Street
Austin, Texas
Noon to 8 pm | Free show | Free beer | 21+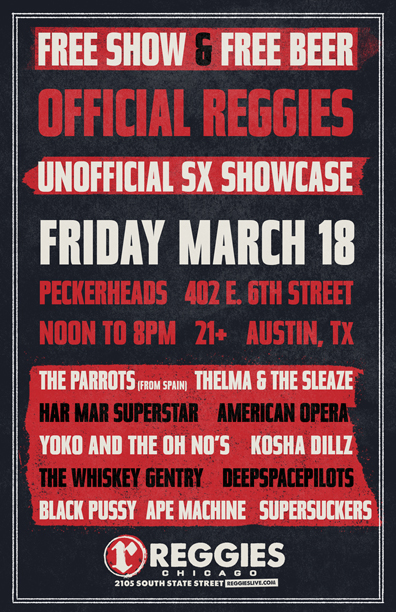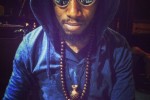 CORY HENRY & THE FUNK APOSTLES
Cory Henry is a multi-instrumentalist and producer with a catalog worthy of a man twice his age. His primary instrument is the organ, and he began playing at the age of two. At the age of six he competed at the Apollo Theater and made it to the finalist round. In 2010, he co-produced Jay White's "Larger than Life". Later that year he released his first album "Christmas With You", which featured his lively renditions of Christmas classics and prominently showcased his skill as an improviser. Kim Burrell's Grammy nominated and Stellar Award winning "Love" album released in 2011 boasted several tracks that were written and produced by Henry. Later on that year, he released a single entitled "Leave Me Alone" featuring his vocal artistry.
At the tender age of nineteen he had the opportunity to begin traveling with the Jazz legend Kenny Garrett as his organist in a stint that lasted three years. He has done television work playing on the third season of Sunday's Best for BET and on the Jimmy Fallon Show. He has worked with Aretha Franklin, Yolanda Adams, Sara Bareilles, Stanley Brown, Ray Chew And The Crew, P. Diddy, Kirk Franklin, Rob Glasper, Ron Grant, Lalah Hathway, Derrick Hodge, Israel Houghton, Joe, Shaun Kingston, Donald Lawrence, Mary Mary, Donnie McClurkin, Michael McDonald, Boyz 2 Men, NAS, Snarky Puppy, Tommy Sims, Bruce Springsteen, The Roots, Hezekiah Walker, Bishop Jeffrey White, the late Timothy Wright, and many others. Henry's awe-inspiring impromptu YouTube performances have gained him a loyal and sizable following. His latest release, "First Steps" was released in the July 2014 and was celebrated on iTunes as "New and Noteworthy" and debuted #1 on the iTunes charts. He is currently touring with Snarky Puppy, his own band "The Funk Apostles" and lending his talent to the production of several projects for other artists.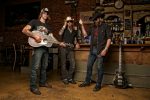 SUPERSUCKERS
You've heard our name, you've seen our records, our t-shirts and our stickers. We're probably the favorite band of someone you know and yet maybe we're still a mystery to you. Well my friend, that's okay, you're at the right place to get to know the greatest rock-n-roll band in the world, The Supersuckers.
And the next time you see the 'Supersuckers' name, whether it's in the record store, online somewhere, or on the marquee at your local rock club, know that there's some quality, honest, ass-kicking, hard working individuals behind it all trying to make your life a little better through the "Evil Powers Of Rock-n-Roll" (and the occasional detour into the country music, of course) and we'd love nothing better than to have you there with us as! Just remember to wear clean underwear, because we're gonna rock your pants right off of you.
– Eddie Spaghetti, Rock Guy
The Supersuckers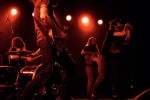 APE MACHINE
The name APE MACHINE is a nod to the days of reel-to-reel magnetic tape audio recording; a fitting moniker for the heavy-hitting quartet as the band plays through vintage tube amplifiers and lays down its songs using exclusively throwback quality studio equipment. With a heady mix of animal aggression and technical precision, APE MACHINE's music carries an organic depth and warmth rarely heard since the time of rock's glorious early years (or your Dad's bad ass record collection) infused with an exceptional modern sensibility. When the mystical lyrics of vocalist Caleb Heinze lock in with the band's stone-cold groove, APE MACHINE demonstrates an earth-shaking ability to rock. A true four-piece, the group has been called "a rock and roll band with a finger on the pulse of the 70's and their asses firmly in the present" and "real heavy-psych for the iPhone generation" that delivers "true guts and glory rock and roll."
Blending equal parts Rock n' Roll, Blues, Stoner Rock and Psychedelia, Ape Machine is out to melt faces and pound the apathy out of otherwise jaded listeners with a wall of heavy rock n' roll tones unheard since the days of bell bottoms, long hair and blaring tube amplifiers.
Ape Machine's mission is to combine intense melody, cutting riffs and blistering live improvisation. Where many bands rely on meticulously rehearsed, just-like-the-record-parts, Ape Machine provides a live experience that is as unique as each evening it shares with an audience.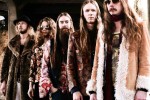 BLACK PUSSY
*NOTE*
Black Pussy does not condone or endorse any sexism, racism, ageism, violence, or any other douchebaggery that has been spoiling the party since the party started. If you are offended by the band's name please refer to the following quote…
"Few people can see genius in someone who has offended them."
-Robertson Davies
When The Rolling Stones wrote their classic track "Brown Sugar" it was originally titled "Black Pussy," but record-label politics got in the way: It was deemed too offensive and the powers at work refused to put it out. So the band had to change the name to something that was easier for the general public to swallow. At least that's how the legend goes.
For Dustin Hill, the creative mastermind and songwriter behind Black Pussy, it sounded like a fantastic band name. It encapsulates exactly what the band is: a sex-charged, '70s-influenced, hide-your-daughters-because-they're-coming-to-town rock 'n' roll band that sounds like Tarantino directing a Thin Lizzy video in the low desert. Considering the name comes from a song that directly speaks out against racism, Hill isn't willing to entertain the notion that the band intends to offend anyone.
For the past few years, the group has perpetually headed out on nationwide tours, including a full U.S. and Canada stint opening for ex-Kyuss legends Vista Chino in 2013, rightfully earning them the tagline, "ON TOUR FOREVER." The group has also spent the last two years constantly working on heavy, psychedelic rock songs with not only Portland recording engineer Adam Pike (Red Fang, Norska, Black Elk, etc.) but also the legendary Kyuss founding drummer and multi-instrumentalist Brant Bjork.
Black Pussy's heavy, bluesy sound and clear influences of Kyuss, Hendrix and The Who have found a niche in the ever-growing, global stoner-rock movement. The band exclusively uses vintage Sunn gear, pushing a massive 44 speakers when playing live and tends to land shows with the heaviest, sludgiest bands in the Portland, Oregon scene. However, their classic, upbeat, relentlessly hooky tracks have led to Hill coining the phrase "stoner pop," like The Cars meets Black Sabbath. The band's catchy music tends to seduce anyone, even those who walk in off the street after seeing the intriguing band name on the marquis of the venue.
The 2012 debut album, On Blonde, is Hill's baby: It was written and mostly recorded by him alone, though guitarist Ryan McIntire, drummer Dean Carroll, bassist Aaron Poplin and keyboardist Chief O'Dell were later added to the band. The record, which kicks off with the rip of a bong and sounds like a drug-riddled midnight misadventure in a '70s muscle car, even found its way across the ocean as well: The track "Blow Some Steam Off" landed a spot on the February 2013 Metal Hammer compilation. 2013 saw a split release from Black Pussy and LA-based Biblical Proof Of UFOs: a contact high-inducing, 22-minute psychedelic opus entitled "Galaxies."
"For The Sake Of Argument" is the first taste of Black Pussy's forthcoming album, Magic Mustache, which will be out in early 2015. The band's evolved sound takes the feel of rock legends Deep Purple, Thin Lizzy and Hawkwind and combines it with the heaviness of stoner rock icons Kyuss and Monster Magnet, adding add a potent dose of pop sensibility reminiscent of The Cars and Queens Of The Stone Age for the quintessential stuck-in-your-head-for-weeks, sound that is Black Pussy. Filmed using an analog liquid light projector, the video utilizes a classic yet unique-looking take on the psychedelic and drug inspired imagery popularized in the 60s and 70s. Black Pussy are back doing what they do best: sending on a journey through time and space where vintage gear acts as the controls, and sound waves are the highways.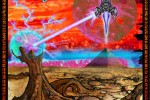 DEEPSPACEPILOTS
Deepspacepilots: heavy rock with an almost sub-underground/early
stoner Sub Pop vibe, this Chicago-based band blends a unique style of
psychedelic, stoner rock with elements of doom, ambient, and early 90s
British-shoegaze. Unlike a lot of bands in this same subgenre of music
who yell and scream over the riffs, deepspacepilots employ a melodic,
and, at times hypnotic-style of lead vocals that aren't paired up too
often with music this heavy. Add that to the band's wall-of-sound
rhythm section and you get a mix of heavy guitar, bass, and drums with
vocals that at times seem to float on top of the music. The band has
released two self-titled albums and is working on new material in the
studio for an upcoming release.
"Southside Veterans of Intergalactic Ear-Bleeding Ambient/Psychedelic
Rock Excursions…" -Renato Brujo
"If you consider yourselves fans of either stoner, doom or psych and
you like a very small touch of ambient in your listenings then you
HAVE TO check this out." -Stoned Sun Vibrations.
"…all killer/no filler heavy with an instantaneous-catchiness
trip…" –deathstar330.blogspot.com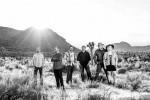 THE WHISKEY GENTRY
Amongst many attempts to describe The Whiskey Gentry, perhaps the best take was from Paste Magazine, who called them a "toe-tapping, steamrolling kind of band, its fingers picking deep into fields of bluegrass…with a punk-inspired kick drum."
The Whiskey Gentry's catchy tunes reel in listeners ranging from young music novices to wider mainstream audiences, while their musical chops earn the professional praise and respect of those with the most sophisticated of musical palates.
Initially a quintet formed by husband and wife duo Lauren Staley and Jason Morrow, the band's 2011 debut album, Please Make Welcome, became a critically-acclaimed success, garnering official recognition as a finalist in the Chris Austin Songwriting Competition held at MerleFest. While touring in support of the record, the full lineup was solidified, with Michael Smith on mandolin and Rurik Nunan on fiddle/vocals joining Chesley Lowe on banjo, and Sammy Griffin on bass.
For their 2013 sophomore effort, Holly Grove, the band once again sought the talents of engineer and co-producer John Keane (R.E.M., Uncle Tupelo). In early 2013, the band successfully rallied fans to help fund the studio sessions through a Kickstarter campaign. Local artists and established pros alike pitched in as well, creating a true ensemble effort on songs such as a duet with Butch Walker on "One Night in New York," and cameos throughout the album by Les Hall, the Dappled Grays, and Radiolucent. Mastered by Glenn Schick (Indigo Girls, Drive-By Truckers), Holly Grove infuses elements of country, bluegrass, folk, rock, and punk with a mix of poppy and poignant lyrics, fiery and heartfelt vocals, traditional and progressive sounds, honesty, edginess, and entertainment all around.
With two studio albums under their belt, April 2014 saw the release of Live From Georgia on Goose Creek Music, which captures the raw energy and powerful stage presence fans have come to expect at live shows. Indeed The Whiskey Gentry is riding a wave of momentum. Holly Grove peaked at #16 on the Americana Radio Chart, they continue touring extensively up and down the East coast from Tampa to Boston, through Texas and Louisiana, the Midwest, and many points in between, including Europe. Luring listeners in, capturing their ears, hearts, and minds, and blazing new trails in Americana music and beyond, The Whiskey Gentry is only just warming its heels.
Hunter S. Thompson wrote that "the whiskey gentry" was "a pretentious mix of booze, failed dreams, and a terminal identity crisis." Though they are never lacking offers from fans for a shot of whiskey, their dreams are becoming reality, their identity is distinct, their future on a steady crescendo.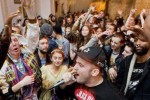 KOSHA DILLZ
Kosha Dillz is a world class improv artist that has recieved major attention for his dedication to success. He has played every kind of gig,ranging from shows with Rza of the Wu Tang Clan and Matisyahu, to the Legendary Yo gabba Gabba childrens show. He is most known for his ability to improv in front of thousands of people an rap in hebrew and spanish combined.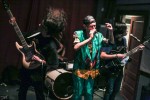 YOKO AND THE OH NO'S
Yoko & the Oh No's are three friends from Chicago: Max Goldstein on vocals, Max Loebman on guitar, and Stef Roti on drums, a raging trio seemingly fueled by Taco Bell, rock & roll myths, and pilfered booze.
It doesn't quite jive how kids this young (Max L. just graduated high school) managed to tap into a vibe this classic. The band's S/T full-length debut is crammed with classic rock riffs, swinging beats, and up front, the sassy, done-up style of Max G. emoting loosely and widly like a young David Johanson, possessing a crooner's voice and a taste for style. Dolled up in flashy get-ups, Max G.'s voice is a growly, beefy thing, a rangy tenor that belies his taste for soul shouters. The prevailing mood in modern indie garage rock is one of stylistic indifference, but that's not how Yoko & the Oh No's come across; these kiddos don't just care, they care a lot.
Listen to the crashing classic rock chorus of "Heart Attack," the sneering "She Knows It," and the distorted R&B groove of "Nobody Wants to Know." "Talking over radio/on the moonlit drive/We listen to VU/Jane says close your eyes," Max G. sings lovelorn until the brutal kiss-off: "Nobody wants to know if you're telling lies, 'cause I'm dead to you." Max G. sells each lyric the way only a hopped up teen could, and Max L. and Stef crank out the jams behind him like Marc Bolan or the Spiders from Mars, with a barely contained energy and strutting attitude.
Yoko & the Oh No's S/T album is their first for Autumn Tone Records, which has a knack for finding raw young bucks (turn up records by the Orwells, Twin Peaks, and Modern Vices as a testament). Yoko & the Oh No's recently went on tour with likeminded rock & roll weirdos The Growlers, blowing minds and connecting with crowds across the Midwest.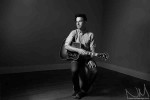 AMERICAN OPERA
"American Opera folk rock singer/songwriter may give the likes of Joe Cocker a run for his money. His songs are gritty and moody with just the right amount of edge."
—TOPIAT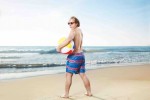 HAR MAR SUPERSTAR
Bye Bye 17, the new album from acclaimed singer, songwriter and performer Har Mar Superstar (aka Sean Tillmann), is out now on Cult Records. Already receiving widespread critical praise, BULLETT calls the album, "impossibly groovy and infectious," while KCRW asserts, "I'd call the album a guilty pleasure but I don't feel guilty at all. It's just packed full of hooks." Additionally, of the album's first single, "Lady, You Shot Me," Death + Taxes declares, "Har Mar Superstar returns with the song of his career," while MTV Buzzworthy calls it a "Buzzworthy Obsession."
Of asking him to join the label, Cult Records founder Julian Casablancas notes, "First time I saw Sean was at the Mercury Lounge years back, and I was blown away by his voice, his confidence and his showmanship. When he recently played me his new record, I felt it was something we could help make truly great. He's the man with the golden voice, and we're excited to try and turn people on to that fact… Like the dude himself, the record's just tough, sad, hilarious and rad."
Written in New York City, the 10-song album was recorded at co-producer Jim Eno's (Spoon) Austin studio with a full live band. Focusing this time more on his voice, Tillmann says, "I was listening to a lot of Otis Redding and Sam Cooke at the time, and I've always been obsessed with those guys… 'Restless Leg,' 'We Don't Sleep,' 'Prisoner' and 'Rhythm Bruises' came out of people playing together. But the rest were just like me in a room, gettin' weird, by myself."
Tillmann named his flamboyant alter-ego after the Har Mar mall in suburban St. Paul, MN where he spent his youth watching movies and writing songs about passers-by in the food court. Tillman explains, "Har Mar Superstar used to be a different person. It used to be my excuse to get away with the more fantastic things in life… It was easier to get onstage as this other guy and be outrageous and have it be glorified. I guess the confidence I got from being Har Mar Superstar translated into my real life, so now we're one and the same."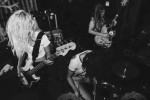 THELMA AND THE SLEAZE
Nashville based power trio sludge fest Thin Lizzy creeps on us.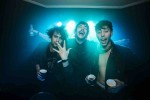 THE PARROTS
(from Spain)
Roll and rock from Madriz.